In an industry inundated with events focused on a single vendor or technology, Interop stands out for its independence, breadth, and stellar speakers.
With Interop Las Vegas fast approaching, it's time once again for IT professionals to gather together in the desert to hear about hot new technology and debate important trends. There are a lot of IT conferences for IT pros to choose from, but Interop is the most important. Here's why.
Independent IT conference
Interop represents the last great independent conference in IT. The trend in recent years has forced shows like this down one of two different paths. The first is the large, vendor-focused event like Cisco Live or VMworld. The second is the smaller, single-focus technology event like the Open Networking Summit or OpenStack conference.
The vendor-focused events are large in scale. They attract thousands of attendees every year. These events include a significant amount of training classes focused on utilizing new vendor technologies or refining the use of existing ideas. The world of Vendor X is on display every place you turn.
The single-minded focus of these events can be detrimental. What happens to companies in the technology space that disagree with a given vendor's ideas? What happens when those vendors become direct competitors? At a vendor-focused show, those competing ideas and companies aren't welcome. They either have their invitation to attend rescinded, or they aren't invited in the first place. That prevents the competitor from discussing their ideas alongside Vendor X, but it also makes the event feel eerily homogenous.
In contrast, Interop is an event that showcases many different technology approaches. Two companies that compete head-to-head on an idea like SDN or cloud computing can have equal time to make their ideas heard. No one needs to worry about having an invitation revoked or being forced to present in a building down the road to avoid angering the main vendor behind the conference. In the grand tradition of interoperability, Interop is the place where vendor ideas are put to the test and can mingle in a way to present the best solution.
Variety & context
For the smaller events that focus on a specific technology, the conference road seems to be one of limitless potential. You can gather experts in the field to come together and talk about OpenStack or OpenFlow or any one of a number of technologies. Sessions can be hosted to discuss any number of minute technical points. It's a place where the technology rules the day.
Smaller event aren't immune from complications. How do you know when your technology has passed the tipping point of needing a conference? How many users does it take to form a small event? And what happens next year after we run out of things to discuss? More importantly, what about everything else going on in the world that isn't this technology?
The trap of the small tech conference lies in this hyper-focus. The world outside of these technologies is much bigger than it appears. For example, OpenStack doesn't exist in a vacuum. It relies on other pieces to operate. Some of them get discussed at the conference; others do not. The impact these pieces can have on a project can't be understated.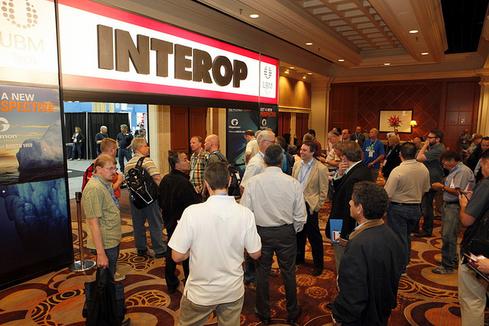 Interop gives technologies both the exposure they need to grow and the context to understand the larger world. Every technology at Interop has the potential to be important. People can hear about new technologies during the education sessions and see which vendors are offering support on the expo floor. There's no need to wait until a technology hits critical mass with users before hearing about it at the inaugural Technology X conference.
Additionally, speakers and vendors can highlight complementary technologies that improve and extend the ideas being discussed. For anyone that's ever said, "I never knew about that feature! It's just what I need!" Interop is the proving ground for making those technologies work together.
Best & brightest
The last piece of Interop that is important to the larger technology world is the caliber of speakers contributing to the event. The lineup of speakers continues to impress year after year. These are the people who are guiding technology as it's built and implemented. Interop speakers are the people that you want to hear discussing exciting new technology. They represent the best and brightest in the field today.
Too often, other conferences create sessions to further an agenda in design or implementation or are forced to accept sponsored sessions to pay the bills. Interop has some sponsored content integrated into the show floor, but it is clearly marked. The conference sessions themselves are created by UBM editors with the advice of independent experts and IT practitioners. They are included because the audience wants to hear what the speakers have to say.
Interop is a very important part of the technology community. It's the one event that combines independence with showcasing critical technology and giving exposure to all facets of the ecosystem from speakers deeply ingrained in making the technology successful. It's the one event of the year you don't want to miss.
+++
Originally posted on Network Computing by Tom Hollingsworth, CCIE #29213, is a former VAR network engineer with 10 years of experience working with primary education and the problems they face implementing technology solutions.